Whether you are on the go, need to do your banking in the off-hours, or prefer using technology for your banking, you can access your accounts with FNB online banking. Wherever you have internet access or mobile capabilities, your bank accounts are at your fingertips for ease and convenience.
Online Banking
---
Our online banking features allow you to access your account or pay bills 24 hours a day, seven days a week using our secure website. Do your banking when you need to without time constraints or limits. Online banking also helps to reduce your risk of identity theft by limiting the amount of paper and information available to those who seek to do you harm.
Real-time FNB Account Info
Check Balances
View, Download, and Print eStatements
Review Products and Services
Initiate Stop Payments
Direct Deposit
| | |
| --- | --- |
| | |
Bill Pay
---
Forget the stamps; paying bills has never been easier. Pay bills electronically and schedule reminders to ensure your payment is on time. Once enrolled in online banking, you can take advantage of Online Bill Pay and enjoy the benefits of paying your bills online at your convenience.
Use our Online Bill Pay to:
Set up vendor names, amounts, and payment dates in order to make automatic payments or make payments each month at your convenience

Create reminders to make payments

Send confirmations once the payment is sent

Manage bills and view the history of payments daily
Bill Pay is free for First Choice/First Choice Plus account holders - all other accounts are charged a monthly fee of $3.95.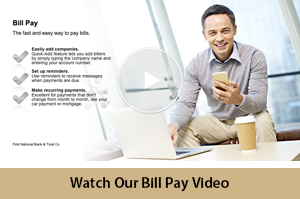 ---
FNB Online Bill Pay Setup
If you are interested in online bill pay, click "enroll" in the top right-hand corner at https://www.fnbokla.bank/

There you will find an Electronic Disclosure Consent Statement. In order to enroll, you must click the check box and "agree." You will also need to read the Internet Banking and Bill Pay Consent Statement, then click the check box and "agree" to continue.

Once you have agreed to the disclosure and consent, fill out the Online Internet Banking Enrollment Form. When you have finished, your information will be securely sent to our customer service department. It will take approximately 24-48 hours to receive the confirmation e-mail that enrollment is complete.

When you have received an email confirmation from us that your enrollment is complete, you may begin using this service by logging in at the top right-hand corner at https://www.fnbokla.bank/ with your user name and password every time, to access your account information via the Internet.
Change Your Password
Log on to your account

Click "Change Password" in the top right corner

Under the Password Bar, choose Edit

Type your current password

Type your new desired password

Re-type your desired password

Click "Submit" to complete the changes



---
If You Forget Your Password
Type in your Access ID and click "Submit"

Click "Forgot Password"

You will be prompted to input your Access ID, the last 4 of your Social Security or Tax ID Number, and your email address associated with the account

You will receive an email from "FNBOkla - Forgot Password" that will have your temporary password

Use your temporary password to log on to your account

The system will prompt you to change your password

Click "Submit" to complete the changes
---
Banking in the palm of your hand. Download the FNBOKla Mobile Banking app from Apple iTunes or the Google Play store.
Mobile Picture Deposit - Learn More

Balances and transactions

Fund transfer capability

Online bill pay

ATM locator
Apple Mobile App
Android Mobile App
| | |
| --- | --- |
| | |
Enrolling In FNBOkla Mobile Banking
---
(You must enroll in Online Banking first)
Enroll in FNBOkla Mobile Banking by going to https://www.fnbokla.bank/

Log on to Online Banking

You will be prompted to enroll before going to the account landing page.

Select the Enroll Now button

If not prompted, it is because this option has been previously bypassed.

After logging on to your Online Banking, click the "Change Password" tab at the top right of the screen. By clicking change password, this does not mean that you are changing your password, it is the tab in which you can manage your account settings.

Scroll down to the Mobile Banking Profile section

Click "Enroll" on the right side of the screen

You will be taken to setup instructions

The instructions will give you the App Code

Go to your iTunes App Store or Google Play Store

Search "FNBOkla" and download the app

Open the app and type in the App Code from the Mobile Banking Instructions on your mobile device

Use your personal Online Banking user name and password to sign in

You should now be enrolled in FNBOkla Mobile Banking.
Please call your branch if you have any questions about the App.
Online Banking Sign Up
---
How does online banking work?
First, you need an account with FNB. If you do not have an account, one of our personal banking professionals can assist you with opening one and enrolling in online banking.
Once you have an online account, you can:
View FNB accounts

Change contact information

Check balances

Make transfers from one account to another

Review statements and check images

Bill payment

Direct Deposit
How to Register for Online Banking:
Enroll in Online Services

Fill out the registration form

Click "Submit"

You will receive a confirmation email with first-time sign-in instructions within 48 business hours following your request.

Follow the instructions to Sign In

You will be provided a temporary password. Upon initial sign in you will create your own password. The password must be at least 8 characters and no more than 10, containing an uppercase letter, and a numeral.
How to Log onto Online Banking (Initial Setup):
In the Access ID box, click to supply a cursor

Type in your Online Banking user name

Click "Login"

Type your password and click "Submit". If prompted, answer the challenge question.